Tanzania safari vacations
Enjoy the best attractions of Tanzania and witness the true wilderness of African soil!
Tanzania safari
Holiday in Tanzania

Seize the chance to see the best attractions of Tanzania and be able to witness the true wilderness of Africa.
All about safaris
Tanzania through its wildlife

Read our articles to benefit from some of the hints to guide you through your Tanzania dream safari.
Book your safari
Best offers for safaris

Explore the natural beauty of the country; Lake Manyara, Serengeti Plains, Ngorongoro Crater Tarangire Park…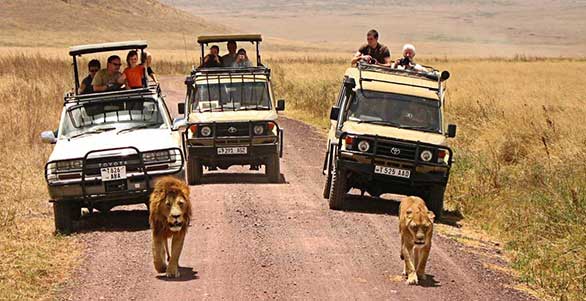 Safari vacation in Tanzania
What awaits you during a holiday safari
A Tanzania safari experience is appropriately designed to cater for the adventurous tourists with plenty of time to experience Africa. An often great safari package will take you to the Lake Manyara National Park, certainly one of Tanzania's most exceptionally located game parks, to Serengeti National, to the Ngorongoro Conservation Area, to the the Tarangire National Park…
You will often find yourself in a comfortable vehicle offering excellent viewing opportunities, alongside welle trained guides who, speak fluent English language. Take time to book a great safari that suits your budget.
Welcome to Tanzania
Nature, wildlife and safari for your holidays!
Best safari spots in Tanzania
Serengeti National Park
This Tanzania safari park is among the biggest, oldest and even most preferred game parks within Tanzania.

Ngorongoro Crater Tanzania
The Ngorongoro Crater is mostly a prime destination in East African safaris due to its broad wildlife packed volcanic crater.



Lake Manyara Safari Adventure
Lake Manyara National Park is a famous alkaline lake located in the northern part of Tanzania, learn more about it with us!

Mount Kilimanjaro Trekking
Climbing Kilimanjaro is such a great adventure that every tourist must take part in, whether alone or with a bunch of other adventurers…

What about a honeymoon safari?
Safaris, whether it's in Tanzania or anywhere else, is more romantic than you might think. Go on a honeymoon safari in Tanzania!